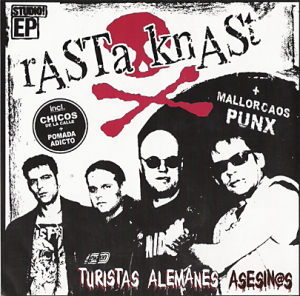 Año: 2000
Lugar: Celle (Alemania)
E.p. de 5 canciones, todas ellas cantadas en español, algunas con accento aleman, otras cantadas por peña de Mallorca. Creo que está grabado en la misma isla. Hay varias versiones de bandas españolas. En su epoca los vi tocar un par de veces, la primera si no me acuerdo mal en la sala Sonotone de Gomila. Uno de mis primeros conciertos punk.
Anno: 2000
Luogo: Celle (Germania)
E.p. di 5 canzoni, tutte cantate in spagnolo, alcune con accento tedesco, altre cantate da gente di Maiorca. Credo che lo registrarono nella prpria isola. Varie delle canzoni sono versioni di gruppi spagnoli. Ai tempi gli ho visti suonare un paio di volte, la prima se non ricordo male nella sala Sonotone di Gomila. Uno dei miei primi concerti punk.
Year: 2000
Place: Celle (Germany)
5 songs' e.p. All the songs are singed in spanish, some of theme with german accent, some others by people from Mallorca. I think was recorded in the very same island. Some of the songs are covers from spanish bands. Back in the time i saw theme live couple of time, first time if i don't remember wrong in Sonotone, located in Gomila. It was one of my first punk shows.