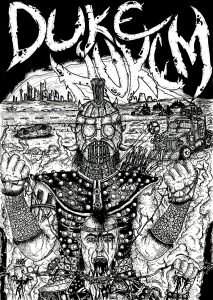 Año: 2014
Lugar: San Petersburgo (Rusia)
E.p. de 4 temas, 1 en ingles y 3 en ruso. Su musica es una mezcla acertada de crust, d-beat, r'n'r y thrash primitivo. Buen sonido y las canciones son bien cañeras. Estaran de gira por Europa del sur-oeste en verano.
Anno: 2014
Luogo: San Pietroburgo (Russia)
E.p. di 4 canzoni, 1 in inglese e 3 in russo. La loro musica é un intruglio azzecato di crust, d-beat, r'n'r e thrash primitivo. Buona registrazione e canzoni belle potenti. Faranno un tour per l'Europa del sud-ovest quest'estate.
Year: 2014
Place: Saint Petersburg (Russia)
4 songs e.p., 1 of them in english and the rest in russian. Their music is a wise mix of crust, d-beat, r'n'r and primitive thrash. Good sound and powerfull songs. They'll be on tour throught south-west Europe this summer.