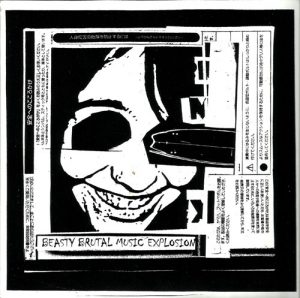 Año: 2007
Lugar: Palma de Mallorca (España)
Otra joya desde la ciudad mas al sur de Alemania.
4 temas en poco mas de 7 minutos, todos instrumentales. Una genial fusion de punk, hardcore, r'n'r y surf con mucha personalidad y mucha energia.
Tuve la suerte de verlos tocar en varias ocasiones y tengo que decir que tenian (algo me dice que ya no tocan…) un directo de lo mas espectacular: los vi propinar 40 minutos de musica con solo una pausa, como si fueran 2 unicas canciones en todo el show.
Los encargados de las cuerdas (que son 2) tambien hicieron lo suyo en Verval Diarrea y Aspirina Infantil.
No tengo ni idea de donde podriais encontrar una copia fisica del e.p.
Yo lo tengo.
Anno: 2007
Luogo: Palma di Maiorca (Spagna)
Un'altra perla dalla cittá piú al sud della Germania.
4 canzoni in poco piú di 7 minuti, tutte strumentali. Una geniale fusione di punk, hardcore, r'n'r e surf con molta personalitá e molta energia.
Ho avuto la fortuna di vederli dal vivo in varie occasioni e devo dire che avevano (qualcosa mi dice che non suonano piú…) un diretto spettacolare: gli ho visti propinare 40 minuti di musica con solo una pausa, come se fossero solo 2 canzoni in tutto lo spettacolo.
Gli incaricati delle corde (che sono 2) fecere delle loro anche con Verval Diarrea y Aspirina Infantil.
Non ho idea di dove possiate procurarvi una copia fisica del e.p.
Io ce l'ho.
Year: 2007
Place: Palma di Mallorca (Spain)
Another gem from Germany's southest city.
4 songs in a little bit more of 7 minutes, all of them instrumentals. A brilliant fusion of punk, hardcore, r'n'r and surf with a lot of personality and a lot of energy.
I had the luck to see them live several times and i have to say they had (something says me they don't play nomore…) a spactacular live act: i saw them playing 40 minutes of music with only 1 break, as if they were only 2 songs throughout the show.
The guys in charge of the strings (which are 2) did their thing also with Verval Diarrea and Aspirina Infantil.
I have no idea where you can found a physical copy of this e.p.
I have mine.