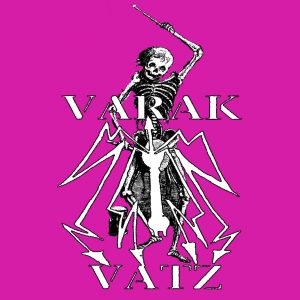 Año: 2017
Luogo: Ereván (Armenia)
Este es el unico trabajo discografico de esta banda, ya disuelta creo. En su pagina decian ser la unica banda de punk de Armenia. 6 canciones rapidas y sucias de punk hardcore con melodias minimalistas y letras en armenio (idioma que tiene su proprio alfabeto). Ellos llaman su musica psycho-stanci, que no se que quiere decir.
Anno: 2017
Luogo: Erevan (Armenia)
Questa é l'unica uscita discografica di questo gruppo, giá sciolto credo. Nella loro pagina dicevano essere l'unico gruppo punk dell'Armenia. 6 canzoni veloci e sporche di punk hardcore con melodie minimaliste e testi in armenio (lingua cha ha il suo proprio alfabeto). Auto definiscono la loro musica psycho-stanci, che non so che vuol dire.
Year: 2017
Place: Yerevan (Armenia)
This is the only discographic issue from this band, who has alredy split (i believe). In their page they clame to be the only armenian punk band. 6 fast and dirty punk hardcore tracks with minimal melodies and lyrics in armenian (lenguage who has is own alphabet). They define their music as psycho-stanci, which i don't know what it means.