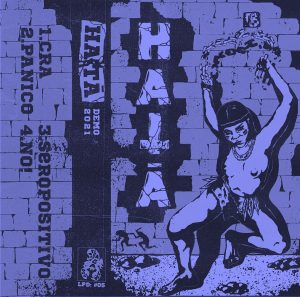 Año: 2021
Lugar: Barcelona
El bueno del Sebastian "Lechuga" me pasa este disco, donde el toca la guitarra. 4 temas de hardcore punk cortos y al grano al mejor estilo latinoamericano. Muy recomendable. Canta una chica.
Anno: 2021
Luogo: Barcellona (Spagna)
Il buon vecchio Sebastian "Lechuga" m'ha passato questo disco, dove suona la chitarra. 4 di canzoni di hardcore punk brevi e dirette, nel miglior stile latinoamericano. Altamente raccomandato. Canta una ragazza.
Year: 2021
Place: Barcelona (Spain)
Good old Sebastian "Lechuga" gives me this album, where he plays the guitar. 4 short and to the point hardcore punk songs in the best Latin American style. Highly recommended. Sing a girl.