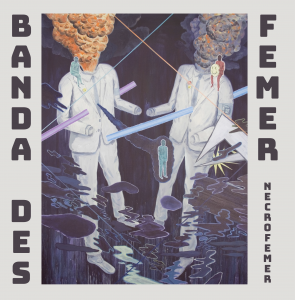 Año: 2020
Lugar: Catalunya
Banda de origen menorquin pero acualmente residente en un lugar no especificado de Catalunya. En este disco nos traen 7 temas de hardcore punk/d-beat ruidoso, caotico y crudo (en algunos momentos me recuerdan a Hüsker Dü) con letras minimalistas en menorquin (menos el primero que es en arabe). Interesante trabajo y guapa portada.
Anno: 2020
Luogo: Catalogna (Spagna)
Gruppo di origine menorchino però attualmente residente in una localitá non meglio specificata della Catalogna. In questo disco ci portano 7 brani di hardcore punk/d-beat rumoroso, caotico e grezzo (in alcuni passaggi mi ricordano agli Hüsker Dü) con testi minimalisti in menorchino (meno il primo che é in arabo). Interessante lavoro e bella copertina.
Year: 2020
Place: Catalonia (Spain)
Band originally from Menorca but actually living in a not specified location of Catalonia. In this album they bring us 7 tunes of noisy, chaotic and raw hardcore punk/d-beat (in some parts they remind me of Hüsker Dü) with lyrics un menorquí (but the first one which is in arab). Interesting record and cool cover.