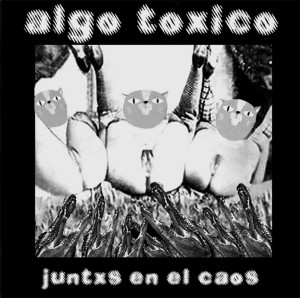 Año: 2015
Lugar: Barcelona (España)
Me contactó Silvia, que fué cantante de Ultimo Resorte, banda punk de Barcelona empezada en el 1979, y me pasó este disco para ayudarles a promocionarlo y aquí estamos.
Basicamente: punk. 6 canciones de alrededor de 2:30 minutos cada una, guitarreo rockero, velocidad a medio gas, voz estridente, con un aire en general divertido e irreverente. Algunos momentos con una vena mas hard rock ("Vudu", la tercera pista), otros mas pop ("Juntas", la cuarta pista, una cancion de amor[?] bastante melancolica).
Llevan tocando desde 2004 y la misma Silvia en su misiva se define así: "somos un grupo sin pretensiones, pero al mismo tiempo no dejamos de ser persistentes".
La portada, de lo mas brutal que e visto en mucho tiempo.
Anno: 2015
Luogo: Barcellona (Spagna)
Mi contattó Silvia, che fu la cantante degli Ultimo Resorte, gruppo punk di Barcellona iniziato nel 1979, e mi passò 'sto disco per aiutarli a promozionarlo ed in questo punto ci troviamo.
Basicamente: punk. 6 canzoni intorno ai 2:30 minuti ognuna, chitarre rockeggianti, velocitá a mezzo tempo, voce stridente, con un aria in generale divertente ed irriverente. A tratti con uno stile piú hard rock ("Vudu", la terza traccia), a volte piú pop ("Juntas", la quarta traccia, una canzone d'amore[?] abbastanza melancolica).
Suonano dal 2004 e la stessa Silvia nella sua mail si definisce cosí: "siamo un gruppo senza pretese peró allo stesso tempo siamo persistenti".
La copertina, una delle piú brutali che ho visto in molto tempo.
Year: 2015
Place: Barcelona (Spain)
Silvia, who was the singer of Ultimo Resorte, punk band from Barcelona started in 1979, contact me and she pass me this album for help them with the promotion and here we are.
Basically: punk. 6 songs around 2:30 minutes each, rocking guitars, mid-tempo speed, srident voice, with a general tone funny and irreverent. Sometimes with more hard rock style ("Vudu", the third track), others more pop ("Juntas", the forth track, a love song[?] pretty melancholy).
They play together since 2004 and Silvia herself descrive them as: "we are a band with no pretention but at the same time we are tenacious".
The cover, one of the most brutal i've seen in a long time.