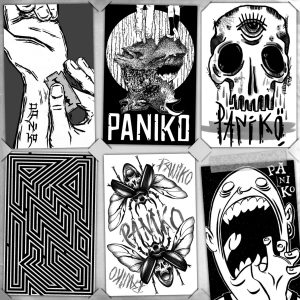 Año: 2017
Lugar: Zarautz
Primera edicion de este trio hardcore punk a 2 voces (chico y chica). Temas cortos, rapidos, con melodia (la justa) y mala leche. La portada que veis aquí son las 6 portadas que tiene la edicion fisica, que es un cassette.
Anno: 2017
Luogo: Zarautz (Spagna)
Prima uscita di questo trio hardcore punk a 2 voci (ragazzo e ragazza). Canzoni corte, veloci, melodiche (ma non troppo) ed incazzate. La copertina che vedete qua sopra sono le 6 copertine dell'edizione fisica, che é una cassetta.
Year: 2017
Place: Zarautz (Spain)
First issue from this hardcore punk trio. They have 2 vocalists (boy and girl). All songs are short, fast, melodics (just enough) and angry. The cover you can see up here is a combination of the 6 different covers that k7 has.