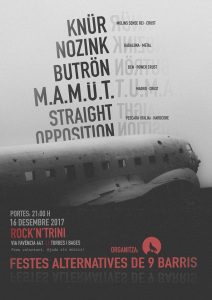 –STRAIGHT OPPOSITION (Hardcore – Pescara, Italia)
Hardcore antifascista directo a la cara, presentando su último disco "The fury from the coast". Para seguidores de Sick Of It All o Terror.
–M.A.M.Ü.T. (Crust – Madrid)
Nuevo grupo de crust punk desde Madrid con componentes experimentados en otras bandas. Vienen con su CD de debut calentito bajo el brazo.
–BUTRÖN (Power Crust – Barcelona)
Buena mezcla de crust, powerviolence y grind. Una apisonadora en directo cargada de letras contra el estado opresor y violento.
-NOZINK (Metal – Badalona)
Groove Metal con influencias death metal y toques industriales. Muy al estilo de grupos de finales de los 90.
–KNÜR (Crust – Molins sense rei)
Nacidos de las cenizas de Displague, Neo Crust de calidad. Después de su gira europea de este verano, vuelven a tocar en Barcelona.
Sábado 16 de Diciembre de 2017 – BARCELONA
Rock & Trini
Via Favència, 441 L1 Torras i Bages
Apertura de puertas: 21:00h
Precio Voluntario. ¡Ayuda a los músicos!