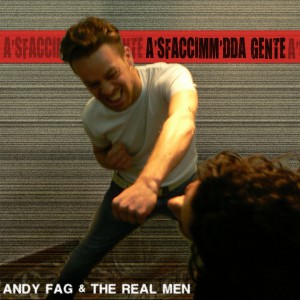 Año: 2009
Lugar: Napoles (Italia)
Brutal disco con brutal titulo (literalmente "la lefa de las personas") de esta brutal banda de brutal nombre (Andy Marica y Los Hombres De Verdad). Un puñado de canciones a medio camino entre el punk hardcore de principio de los '80 y el r'n'r garagero de los '60. Parece ser que ya no tocan. Es una pena porque seguro que sus conciertos tenian que ser bien divertidos.
Anno: 2009
Luogo: Napoli (Italia)
Disco brutale con un titolo brutale (letteralmente "la sborra delle persone") di questa banda brutale con un nome brutale (Andy Frocio e Gli Uomini Veri). Un pugno di canzoni a metà strada tra il punk hardcore dei primi anni '80 ed il garage r'n'r degli anni '60. Sembra che non siano più attivi. È un peccato perché sicuro che i loro concerti dovevano essere ben divertenti.
Year: 2009
Place: Naples (Italy)
Brutal album with a brutal title (litteraly "the cum of the people") from this brutal band with a brutal name. A fistul of songs in half way between '80s punk hardcore and '60s garage r'n'r. Apparently they are not playing nomore. It's a pity because for sure their live shows were very funny.